Kettenbach Dental Podcast Series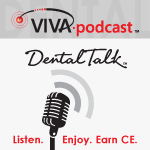 Series: Kettenbach Welcome to the Kettenbach series of VivaPodcasts. Top KOLs will address clinical techniques, new products and the latest research and development at Kettenbach.
---
All Episodes:
Making Perfect Impressions for Clear Aligner Cases
CE Credits: 0 CEU
Release Date: 11/25/2019
Dental podcast hosted by Dr. Phil Klein: This Viva Podcast will discuss how general dentists already have everything they need to get started with clear aligners right now in their office! Doctors can begin offering a new treatment with minimal initial investment. Our guest is Dr. Melissa Shotell, a board-certified Orthodontist who practices in a multi-specialty practice in Sonora, CA focusing on the interplay of Orthodontics and restorative treatment. Dr. Shotell considers education to be her passion and regularly consults and lectures on dental technology, clear aligner therapy, orthodontics, office efficiency and workflow, and teamwork.